Dialed In
THE PERFECT COMBINATION
---
Mineshaft / Miss Doolittle, by Storm Cat, 2008, DK B
Fee: $15,000 S&N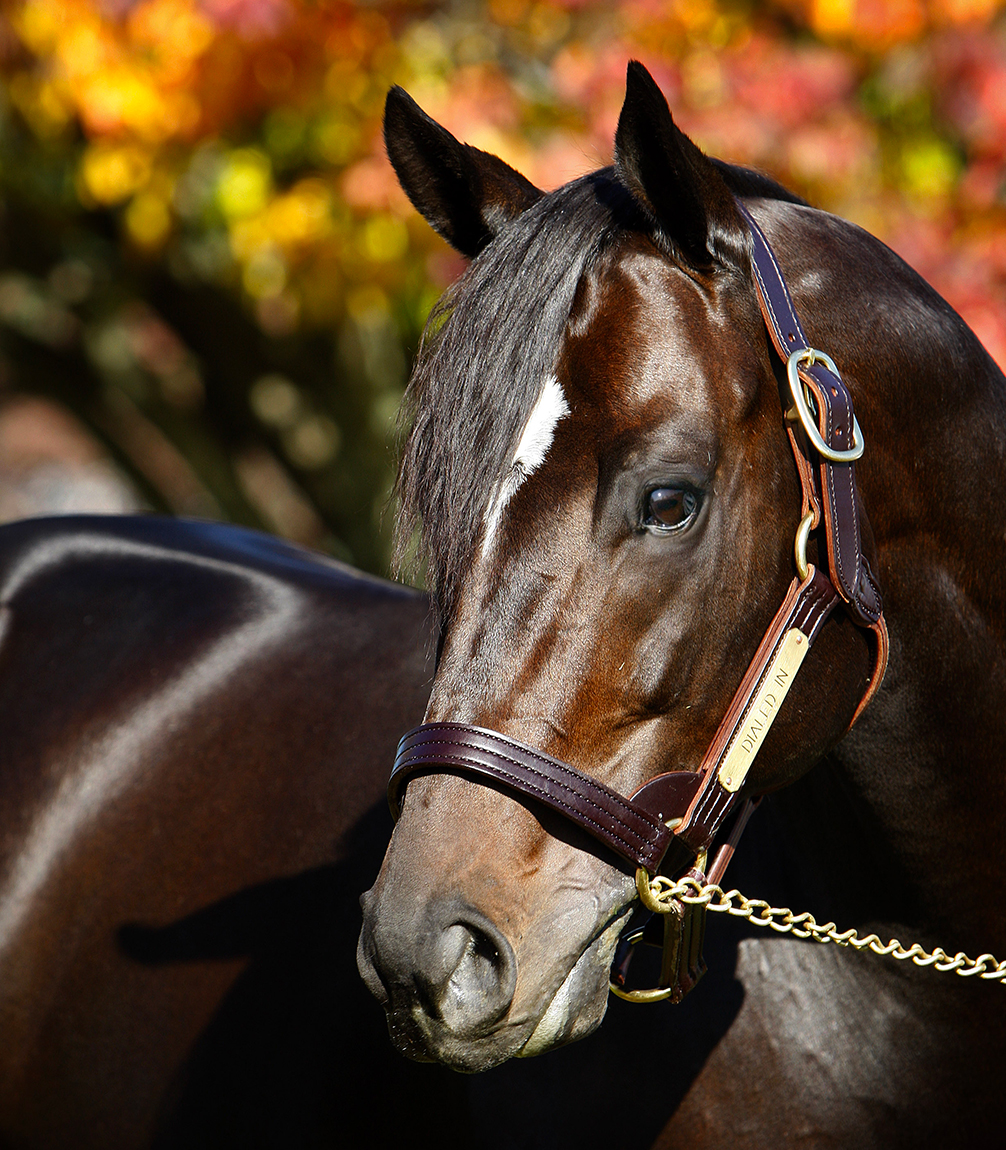 THE PERFECT COMBINATION
Already 2 stakes horses in the first week of 2021
2020 racing: 2YO colt GET HER NUMBER, winner of the American Pharoah S. (G1); 2YO colt SUPER STOCK, stakes winner and placed in the Breeders' Futurity (G1); PRINCESS CADEY, winner of the Beyond the Wire S. and placed in the Delaware Oaks (G3) & Charles Town Oaks (G3); BOURBON CALLING, stakes winner and G3-placed; CHALON, 2-time SW in 2020; MY OPINION (IND), winner of the South India St. Leger (G2); Finnick the Fierce, placed in the Arkansas Derby (G1); etc
2020 sales: 2YOs sold for $310,000, $275,000, etc.
A leading sire of his crop every year, including Champion First-Crop Sire of 2016
Lifetime: 35 BTHs, 18 GSHs, 15 BTWs, and nearly $20 million in progeny earnings
Winner of the stallion-making $1,000,000 Florida Derby (G1) and the $400,000 Holy Bull (G3) in just his second start
$475,000 Select yearling at Saratoga: "Dialed In was a beautifully balanced yearling, and he still is great looking.  That's why he was our catalog cover horse in 2011."—Bill Graves
By A.P. Indy's Horse of the Year MINESHAFT; out of multiple stakes-producing dam Miss Doolittle (by Storm Cat); second dam is Eclipse Champion 2-Year-Old ELIZA
Named a 2020 Proven Value Sire by TDN: "And remember that we're talking about a really flamboyant individual—whether standing up or running. And, in terms of pedigree, he has a flawless 'stairwell' through his third generation: besides the familiar interplay of Secretariat's daughters Weekend Surprise and Terlingua, respectively with Seattle Slew and Storm Bird, we have Mr Prospector with matriarch Up The Flagpole; and Mt. Livermore with Daring Bidder, who was responsible for GI Santa Anita Derby winner Dinard (Strawberry Road) as well as Dialed In's champion second dam Eliza. Whatever percolates can only be class... this could prove a smart moment to get involved." —TDN
By Alan Porter
A spectacular winner over 6½ furlongs at Churchill Downs on his only start at two, and victorious in a vintage edition of the Florida Derby at three, A.P. Indy grandson Dialed In has rapidly established himself as an outstanding young sire.
Dialed In is out of a mare by Storm Cat, and is doing extremely well when crossed back over Storm Cat line mares. He already has graded stakes winning two-year-old The Tabulator out of a mare by Giant's Causeway, and grade two winner Ms Locust Point out of mare by Giant's Causeway son, First Samurai, which suggests trying mares by Giant's Causeway son, Eskendereya, and by Freud, a brother to Giant's Causeway. Dialed In also has multiple stakes winner Ruffenuff out of a mare by Storm Cat son, Forestry (sire of Discreet Cat and Shackleford), and stakes winning and graded placed Chalon out of a mare by Menifee (by Harlan, also sire of Harlan's Holiday, and grandsire of Into Mischief). We can also note that Dialed In's sire, Mineshaft, is responsible for the outstanding runner, It's Tricky, out of a mare by Tale of the Cat (sire of Lion Heart), and other Storm Cat sons that appeal here are Hennessy (sire of Johannesburg, Henny Hughes, Cactus Ridge and Wiseman's Ferry; grandsire of Scat Daddy), Bluegrass Cat, Bernstein, Catienus, Tabasco Cat, Cat Thief, Forest Wildcat (sire Wildcat Heir), High Yield, Sir Cat, Storm Boot, Storm Creek , Stormin Fever, Stormy Atlantic and Tactical Cat, all of whom have supplied the dams of A.P. Indy line stakes winners.
Storm Cat is a Northern Dancer line horse, and Dialed In is sire of stakes winner Montu out of a mare by Deputy Commander, from the Deputy Minister branch of that line. Mineshaft is sire of graded stakes winners from daughters of Deputy Minister and his son Silver Deputy (sire of Posse, Badge of Silver and Spring At Last), which also invites mares by such as Dehere (who has already worked well under A.P. Indy) as well as Touch Gold, Awesome Again (sire of Ghostzapper, Daaher, Toccet and Awesome of Course), French Deputy, Salt Lake and Forest Camp. Mineshaft also has a graded stakes winner out of a mare by Zilzal (a son of Nureyev, also sire of Theatrical, Stravinsky and Atticus) and a stakes winner out of a mare by Dixieland Band (sire of Dixie Union).
Out of mares from the Fappiano branch of Mr. Prospector, Dialed In is sire of Gunnevera, a multiple graded stakes winner of almost $3,000,000, out of a mare by Unbridled, and stakes winning and graded placed It's Your Nickel out of a mare by Quiet American (sire of Real Quiet; grandsire of Midnight Lute). Unbridled sources include Unbridled's Song (sire of Songandaprayer, Rockport Harbor, First Defence, Midshipman, Old Fashioned, Half Ours, Zensational, Dunkirk and Even The Score), Broken Vow, Empire Maker (sire of Pioneerof the Nile and Bodemeister, who gives inbreeding to Storm Cat and A.P. Indy), Saarland (broodmare sire of graded stakes winner by a son of Dialed In's sire, Mineshaft), Grindstone, Birdstone and Summer Bird (who would be very interesting). There is also a graded stakes winner by Mineshaft, out of a mare by Fappiano son, Rubiano (sire of Too Much Bling and Burning Roma).
>Mineshaft also crossed successfully with Mr. Prospector through several other branches, including getting grade one winner Effinex out of a mare by E Dubai; a graded winner out of a mare by Smart Strike (sire of Curlin, Lookin At Lucky and English Channel); stakes winners out of mares by Mr. Greeley and Came Home, sons of Gone West, also sire of Speightstown (who would give inbreeding to Storm Cat), Elusive Quality (sire of Smarty Jones and Quality Road) and Grand Slam; from daughters of Mutakddim and Petitionville, and his sire, Seeking the Gold (also sire of Cape Town); from Hansel and his sire, Woodman (with Not For Love, a three-quarters relative to Woodman also appealing); from Editor's Note (a son of Forty Niner, who looks particularly good here, could also be brought in through Distorted Humor, Coronado's Quest, End Sweep, Gold Fever, Jules, Roar, Tactical Advantage, Trippi and Twining); and from Afleet Alex (by Northern Afleet, whose sire Afleet is also broodmare sire of Mineshaft's Kentucky Derby second Nehro).
Minehaft and sons have done well over mares from the Roberto branch of the Hail to Reason/Turn-to line, and he already has two stakes winners, one graded, out of mares by Kris S. (sire of Arch, You and I and Prized, himself broodmare sire of a Mineshaft line stakes winner) and a stakes winner out of a mare by Red Ransom, and a stakes winner out of a mare by Dynaformer.
Race Record
| Age | Starts | 1st | 2nd | 3rd | Earned |
| --- | --- | --- | --- | --- | --- |
| 2 | 1 | 1 | 0 | 0 | $28,800 |
| 3 | 5 | 2 (2) | 1 | 0 | $910,406 |
| 4 | 1 | 0 | 0 | 0 | $2,730 |
| Totals | 7 | 3 (2) | 1 | 0 | $941,936 |
Won at 2
MSW AT CHURCHILL DOWNS (6 ½F, DEFEATING NINJA BLADE, KRIEGSPEIL, THE FREAK, PHILIPPE, ETC.).
Won at 3
FLORIDA DERBY AT GULFSTREAM PARK (G1, 9F, DEFEATING SHACKLEFORD, TO HONOR AND SERVE, FLASHPOINT, SOLDAT, STAY THIRSTY, ETC.).
HOLY BULL S. AT GULFSTREAM PARK (G3, 8F IN 1:35.19, DEFEATING MUCHO MACHO MAN, GOURMET DINNER, BLACK AND BEAUTY, LEAVE OF ABSENCE, PRINTING PRESS, MAJOR GAIN, ETC.).
2ND AT 3
ALLOWANCE AT GULFSTREAM PARK (9F, TO EQUESTRIO; DEFEATING WILLIAM'S KITTEN, ETC.).