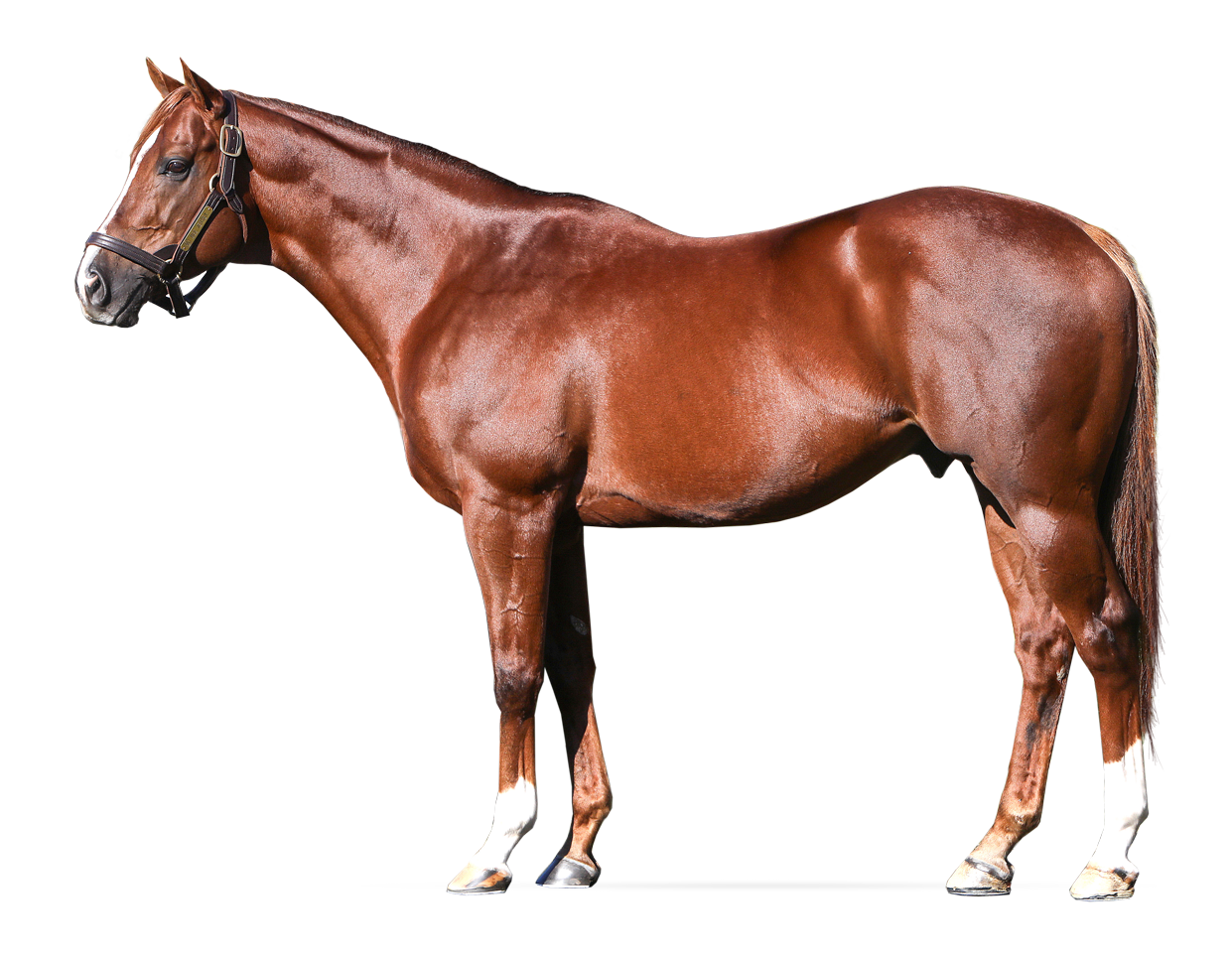 Bee Jersey
GRADE 1 WINNER FROM THE SPEIGHTSTOWN LINE
---
Jersey Town / Bees, by Rahy, 2014, CH
Fee: $5,000 S&N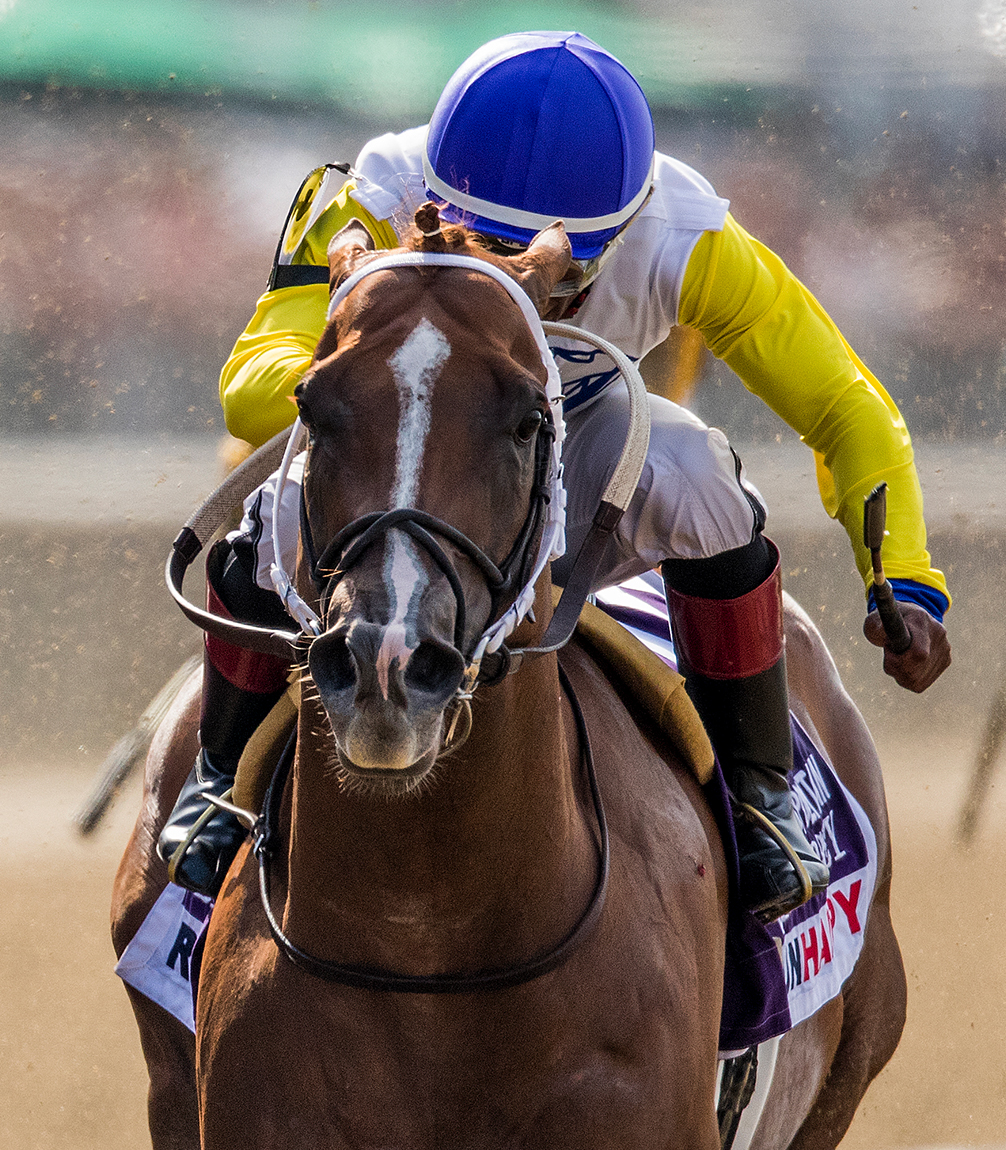 GRADE 1 WINNER FROM THE SPEIGHTSTOWN LINE
Winner of the historic Metropolitan H. (G1) in 1:33.13—faster than Ghostzapper, Mor Spirit, Palace Malice, Holy Bull, etc.
Beyer Speed Figure of 109 in the Metropolitan is the second-fastest by any horse at a mile in 2018
Incredible turn of foot—undefeated and never headed at any call in 2018, with an average winning margin of nearly five lengths
Defeated 10 graded stakes winners in the Metropolitan, including G1 winners Bolt d'Oro, Discreet Lover, Mind Your Biscuits, and Ransom the Moon
Won Steve Sexton Mile (G3) with a 104 Beyer Speed Figure, defeating G1 winner Girvin by 5 ½ lengths
Finished a clear second to eventual 2-time Dubai World Cup (G1) winner Thunder Snow in the UAE 2000 Guineas (G3)
Finished worse than third only once in 10 career starts—earned $976,293
The most accomplished son of Cigar Mile H. (G1) and Kelso H. (G2) champ Jersey Town, a leading son of Speightstown
A $250,000 Keeneland September Yearling out of the stakes-placed Rahy mare Bees; fourth dam is Lassie Dear; from the family of Weekend Surprise, dam of Classic winners A.P. Indy and Summer Squall
Named a Bronze Medal Stallion on Chris McGrath's Value Podium: "One of the fastest milers around, wiring the Met (Mile- G1) field for a 109 Beyer.... Bee Jersey is from one of the very best families in the book, with pervasive Classic seeding. He has the looks too."
"He's absolutely gorgeous, just so perfectly balanced. Just ask John Phillips, he said to me, 'I can't believe how beautiful that horse is.'" - Chuck Fipke, TDN
Race Record
| Age | Starts | 1st | 2nd | 3rd | Earned |
| --- | --- | --- | --- | --- | --- |
| 2 | 1 | 0 | 0 | 1 | $4,493 |
| 3 | 5 | 1 | 3 (1) | 0 | $110,400 |
| 4 | 4 | 4 (2) | 0 | 0 | $861,400 |
| Totals | 10 | 5 | 3 (1) | 1 | $976,293 |
3rd at 2
Maiden race at Meydan (7f, to Capezzano, Fawree, by 2.5 lengths, defeating Cape of Eagles, Dawwass, Bourbon Gleam, Sharp Defence, Hidden Journey, Voice of the North, Al Abyad, Big Sigh (IRE), Modhilah (IRE)).
Won at 3
Maiden special weight race at Keeneland (7f, by 3 lengths, defeating Powerful Ally, C DUb, Makeamericagreat, Ukuru, Such a Tease, La Maquina Gris, Victory Cigar, Pleasantly Persist, Squadron Fourteen, Belgrano).
2nd at 3
U.A.E. Two Thousand Guineas at Meydan (G3, to Thunder Snow (IRE), defeating Capezzano, Qatar Man (IRE), Han Sense, Cosmo Charlie, Victor Kalejs, Best Solution (IRE), Silent Assassin (IRE)).
Allowance at Churchill Downs (7f, to Gold Ekati by 1 length, defeating Class Won, Adulation, Because It's Time, Sutton Impact, Ostentation, Gray Sky, Quality Emperor, Takeittotheedge, Spring d'Oro).
Maiden race at Meydan (8f, to Fawree, defeating Mazeed, Dawwass, Magical Forest (IRE), Forgivethenforget (GB), Sboog, Big Sigh (IRE), Cape of Eagles).
Won at 4
Metropolitan H. at Belmont Park (G1, 8f, by a nose, defeating Mind Your Biscuits, Limousine Liberal, Discreet Lover, Ransom the Moon, McCracken, Good Samaritan, Awesome Slew, One Liner, Warrior's Club, Bold d'Oro).
Steve Sexton Mile S. at Lone Star (G3, 8f, by 5 1/2 lengths, defeating Girvin, Shotgun Kowboy, Futile, South Beach, Oh So Regal, Franco).
Allowance race at Keeneland (8f, by 7 3/4 lengths, defeating Frammento, Han Sense, Icatiro, Rise Up, Action Everyday).
Allowance race at Oaklawn Park (8f, by 6 lengths, defeating Chris and Dave, Blueridge, Gray Sky, Son of a Saint, Bronze Age, Cass in Stone, Compagno, Grandpa's Dream, Love That Lute).
Bee Jersey News
Tuesday, April 14, 2020
In recognition of the economic hardship brought on by the global coronavirus pandemic, all stallions owned by Charles E. Fipke will stand the 2020 season at no charge. The stud fee will be waived for breeders who have already signed contracts, and zero fee contracts will be issued for any new seasons for the remainder […]
Thursday, February 20, 2020
Darby Dan Farm's Grade 1 winner Bee Jersey sired his first reported foal on Jan. 31 when a filly was born at Clearbrook Farm in Paris, Ky. Bred by Charles Fipke, the filly is produced from the winning Tale of Ekati mare Icy Tales. "She's a beautiful, long-legged filly," said Clearbrook Farm's Bill Anderson. "She's […]
Sunday, November 17, 2019
Darby Dan Farm has set 2020 stud fees for its roster of nine stallions that will stand the upcoming breeding season, led by Dialed In, who will stand for $20,000 S&N. The roster also features Shackleford and Klimt who will each stand for $10,000 S&N; Tapiture, a leading freshman sire of 2019, will stand for […]